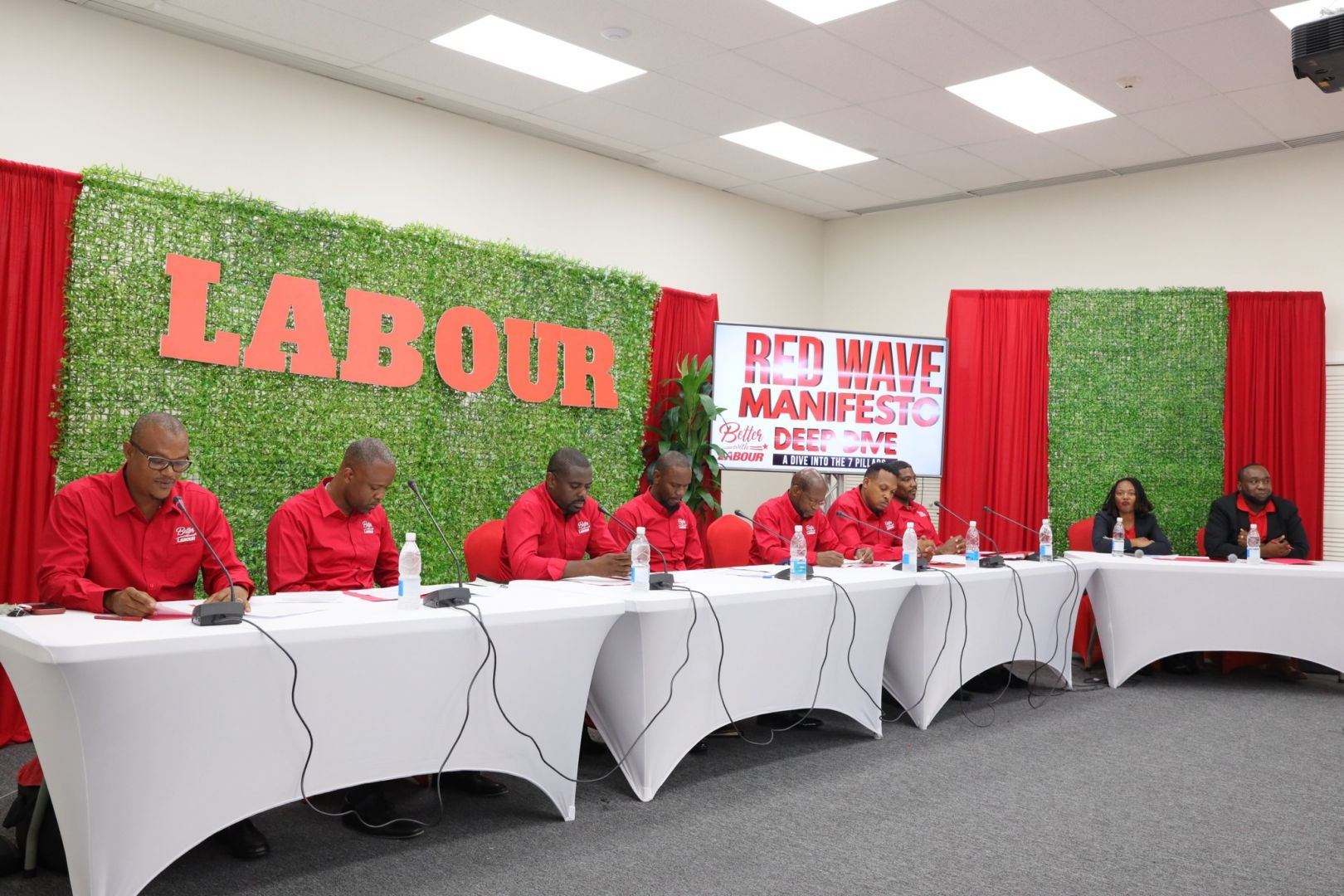 BASSETERRE ST KITTS - JULY 31, 2022 - The St Kitts Nevis Labour Party (SKNLP) manifested its prowess in election campaigning during the previous week ending on Saturday July 30. Labour's A-TEAM encircled the island of St Kitts with a brand of advocacy and canvassing that is touching hearts and minds.
The week started with a Gospel Concert and Rally at Cemaco Parking Lot on Sunday July 24. This event showcased another great selection of home-grown talent featuring Roots Gospel Band. All eight (8) candidates spoke passionately about issues affecting the Federation, and offered solutions through initiatives outlined verbally and in the Digital Manifesto App scheduled to go LIVE later in the week.
Tuesday July 26 was the most important date in the election campaign season thus far. This was the day that all eight candidates of the SKNLP made their candidacy official when they were nominated in each constituency. After this process was completed, comrades and citizens formed a cavalcade of RED and READY patriots and headed west to Green Tree in Old Road for a PIT-STOP. The convoy then took the rest of the island by storm, ending up in constituency 8 (8), home of the next Prime Minister, Dr. Terrance Drew.
The RED WAVE rumbled onto the Conaree Lawn on Wednesday 27. Kollision Band opened the Rally with an energy-packed set. Dr. Drew used his presentation to announce significant relief measures. He Stated, "I want to start by assuring you of our commitment to containing and managing the cost of living in St. Kitts and Nevis. We have gone around this country and we have heard the cries of the people. A St. Kitts and Nevis Labour Party government will lower the cost of living for persons resident here" . A review of existing tariffs would form part of the cost cutting tool outlined by Dr. Drew.
SKNLP'S Digital Manifesto APP was in focus at CUNA Conference Center on Thursday July 28 at 5pm. With the APP now LIVE, each candidate took a DEEP DIVE into their areas of expertise one PILLAR at a time.
Next up was Tabernacle in (C7), currently represented by the outgoing Prime Minister Dr. Timothy Harris. The evening Rally lived up to expectations as throngs of supporters turned up to hear Dr Drew reveal more relief for workers in the Tourism Industry. He declared, "The St. Kitts-Nevis Labour Party believes strongly that workers in this vital sector deserve to have a reliable, realistic wage to meet their day to day and week to week family commitments". He outlined that the plan involves setting aside a portion of CBI revenues that will augment workers wages during the slow season. He explained the formula when he stated, "If you were working for $400 a week during the season, we will monitor occupancy levels and room rates and ensure that in the months where these fall below par, we are in a position to work with hotels to provide payroll support".
Not even rain could have stopped Labour's Youth Rally in Challengers on Friday July 29. The huge crowd of young and not so young came out to enjoy a night of homegrown talent, and the rain would not deter them. EK, Mr Mention, Small Axe Band, Grandmasters, Nicha B, Akaiusweet, Highlight & 313 Family, Stickle and Stadics were some of the featured acts. However, the highlight of the night was the casual attire worn by Labour's A-TEAM. They received rave reviews for their trendy gab. In spite of the sometimes heavy showers, the Rally did not conclude until 3am.
On Saturday July 30, SKNLP'S candidates staged social events where comrades and citizens enjoyed music, food, and drinks. Constituencies 1 and 2 staged a joint effort of pop-up meetings in various parts of the community. As St Kitts Nevis heads to the poll on Friday August 5, MOMENTUM for the St Kitts Nevis Labour Party keeps growing.